Tahirul Qadri leaves for London, says 'Sharif family should appear before NAB'
Source: Geo • 1 month ago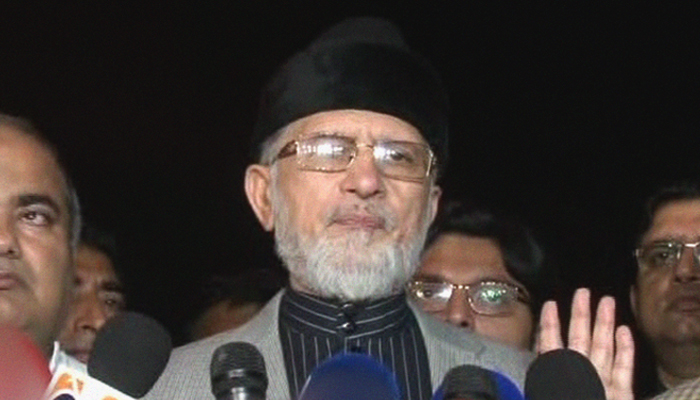 LAHORE: Pakistan Awami Tehreek (PAT) chief Tahirul Qadri departed here for London late Sunday night for a brief visit before returning to Pakistan in a couple of weeks, Geo News reported.
"Tahirul Qadri will be returning to Pakistan on August 31," a spokesperson for the PAT leader said.
Before boarding his flight abroad, Qadri commented on the ongoing political situation in the country. He criticised the actions of the former Prime Minister Nawaz Sharif and his family.
"The Sharif family should appear before NAB [the National Accountability Bureau]," he said, adding that this is the third chance the Supreme Court of Pakistan (SC) has given them to prove their innocence.
Talking about the opportunities for the Sharifs to clear their name, he stated that the SC can even issue an order for their arrests if they fail to appear before the NAB. "Therefore, it should be wise for them to do it," he said.
Qadri also commented on how this is an opportunity for the NAB to improve its image and reputation in the nation. 
"Pakistan Muslim League-Nawaz (PML-N) will not be able to amend the Constitution of Pakistan," the PAT chief noted.
Before leaving, however, he said that he is not attempting to flee Pakistan, but that he will return in the coming weeks.
"I'm not fleeing; I'll be coming back very soon. The Model Town tragedy still needs to be accounted for," he stated.
Murderer 'still at large'
Earlier, on Wednesday, Qadri – while addressing party workers and favourers at a sit-in in Lahore – said his organisation will go to any extent to obtain justice for the victims of the Model Town tragedy.
Qadri was speaking at a rally held last week in remembrance of the 2014 incident, which claimed the lives of 14 people while scores were left wounded.

"The thief has been caught. The murderer behind the Model Town incident is still at large," he said in an apparent reference to the Sharif brothers.
The PAT leader said he will be at the sit-in for as long as the demonstrators decide to participate and vowed to hold rallies in Faisalabad, Multan, and Rawalpindi after Eid-ul-Azha.