Six of a family burn to death in Karachi van fire
Source: Geo • 9 days ago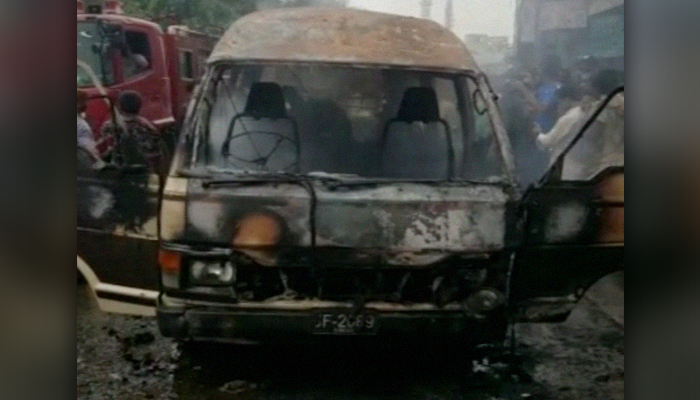 KARACHI: A Sunday picnic turned into a horrific tragedy as six of a family were burnt to death while five others were injured as their van caught fire in Garden area of the city. 
Rescue officials said at least six people, including children, were burnt to death and five wounded when their van caught fire early Sunday morning near the zoo.
As the van caught fire, passersby began dousing the flames themselves and rescued the trapped passengers. 
Police officials said the van's gas cylinders are intact and believe short-circuiting could be behind the fire. However, they are yet to determine the exact nature of the fire as investigations are under way.
The van's passengers – 11 in total – were on the way to a picnic, according to the injured family members. There were four children inside the van when it burst into flames.

The driver suspiciously fled the scene and is nowhere to be found, according to police officials.
Officials at the scene explained that four of the van's passengers were pulled out in time, but added that they have suffered severe injuries and have been shifted to Jinnah Hospital.
'Chachoo told me to open the door'
Two passengers, who made out alive, were able to speak to Geo.tv.
"I urge everyone from my family, who is watching television right now, to reach here and help us," one of the passengers said. "The fire brigade got here after two hours; they were late," he added.
"Right after we figured out the van was on fire, my chachoo (uncle) told me to open the door. It was then that it exploded," explained another victim — a teenage kid, who stopped midway through the conversation, overcome with sadness as tears rolled down his cheeks.
While the victim's relatives have reached the scene, they were unable to comment on the matter due to shock and grief.