Five burn to death, four injured as van catches fire in Karachi; driver fled
Source: Geo • 9 days ago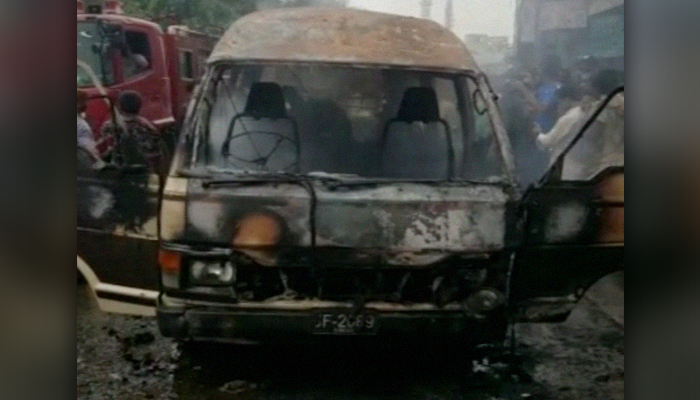 KARACHI: At least five people, including a child, burnt to death and four were wounded when a passenger van caught fire early Sunday morning here near the city's zoo, rescue sources said.

The fire started in the van's front side and spread backwards. Initial reports indicated that three of the passengers had expired on the spot; however, minutes later, two more succumbed to death.
The van's passengers – 11 in total – were on way to a picnic. There were four children inside the van when it burst into flames.
The driver suspiciously fled the scene and is nowhere to be found.
Officials at the scene explained that four of the van's passengers were pulled out in time, but added that they were badly wounded.

'Open the door'
Two passengers, who made out alive, were able to speak to Geo.tv.
"I urge everyone from my family, who is watching the television right now, to reach here and help us," one of the passengers said. "The fire brigade got here after two hours; they were late," he added.
"Right after we figured out the van was on fire, my chachoo (uncle) told me to open the door. It was then that it exploded," explained another victim – a teenage kid, who stopped midway through the conversation, overcome with sadness as tears rolled down his cheeks.
It is unclear at present as to whether the vehicle burst into flames due to a cylinder explosion or a short circuit. However, the blaze is now under control and has been doused.
While the victim's relatives have reached the scene, they were unable to comment on the matter due to shock and grief.

The wounded have been shifted to Jinnah Hospital and are said to be in critical condition.