Voters made me prime minister, few people sent me home, says Nawaz
Source: Geo • 9 days ago
LAHORE: Former prime minister Nawaz Sharif, addressing and thanking his supporters at Data Darbar, said that the city's voters had made him the prime minister but "five people sent him home".
The former premier, in his final address after various stopovers during a four-day rally, said that in the entire history of the country not one prime minister was allowed to complete their tenure and were removed under a conspiracy.
"All prime ministers were removed. Were all of them corrupt," asked Nawaz.
He asked if the dictators who "have eaten away 30 years of Pakistan" will ever be held accountable.
He implored his supporters to take a stand against this treatment of prime ministers, saying "there is no country [in the world] like Pakistan where there is no importance of the votes of the masses".
Condemning the blast near Quetta's Pishin Stop earlier today, Nawaz Sharif said that he is extremely saddened over the death of common citizens and security personnel in the blast. The former premier expressed sympathies for the families of those affected.

No corruption allegations proved against us: Shehbaz Sharif
Chief Minister Shehbaz Sharif addressing the rally before Nawaz Sharif said that the youth participating in the rally have proved Imran Khan wrong.
"Not one accusation of corruption has been proven against us," he said.
Earlier addressing his supporters at Shahdara, Nawaz said that his disqualification verdict was not accepted by the masses and together with the people change will be brought to Pakistan. 

"You have to support me. Promise that you will support Nawaz Sharif," said the former premier. 

He said he will not sit with ease and neither will the people sit at ease till betterment is brought to the country. 

"I have come from Islamabad, and all along the route people rejected the verdict," said Nawaz. 
"The case started with Panama, and I was ousted over an iqama," said Nawaz referring to the verdict passed in the Panama Papers case. 

PML-N supporters were seen rejoicing at Nawaz's arrival at the venue.

Preparations for Nawaz's address
Earlier, preparations were completed at the venue set-up at Daata Darbar for the former premier's address to PML-N supporters. 

A stage, 60 feet wide and 20 feet high has been prepared for Nawaz's final speech during his 'homecoming' rally. 
Devotees were barred from entering the premises of the Sufi shrine in expectation of Nawaz's arrival. Roads surrounding the shrine were closed off by security personnel, causing inconvenience to motorists and the area's residents. 
Due to heavy congestion on the roads, vehicles which are part Nawaz's caravan have been asked to stop before Ravi bridge.
Only vehicles belonging to Nawaz and PML-N leaders have been allowed to proceed. Participants of the rally have been advised to proceed on foot from the bridge to Daata Darbar.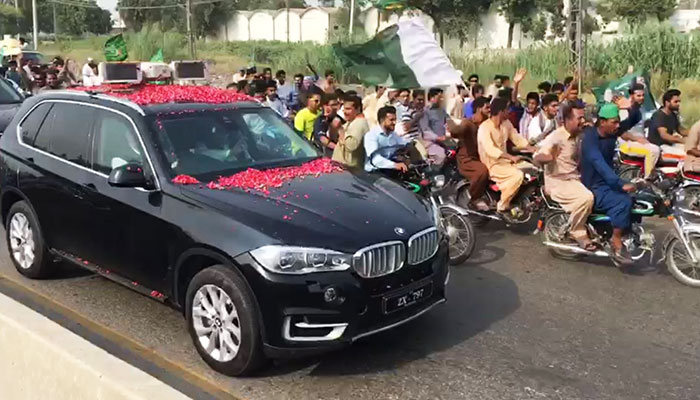 The local administration has instructed workers to park their vehicles at Shahdara.
A large number of PML-N supporters have arrived at the venue. Local administration has stopped the Metro route between Shahdara and Daata Bar.   
Security personnel have conducted a sweep of the stage set-up at Shahdara to ensure security of the former premier. 
Metal detectors and sniffer dogs were used by security forces to mitigate the risk of any untoward incident. 
Will never betray you, Nawaz says in Muridke
Earlier today, Nawaz's caravan reached Muridke on the way to Lahore during the final leg of his 'homecoming' rally. 
Addressing his supporters during a stopover at Muridke, Nawaz pledged his loyalty to the public and said he would "never betray" them.

"Today, Nawaz Sharif has come to you. You made Nawaz Sharif the PM, you sent Nawaz Sharif to Islamabad. There is no corruption against me. No irregularities. No discrepancies," he said to loud chants of support from the crowd.
"Tell me, do you accept the [Supreme Court] verdict? Do you accept this insult to your mandate?" the ousted prime minister questioned. 
Nawaz lamented that Pakistan was "facing ridicule" around the world because of the apex court's judgment.
"This is a joke. Pakistanis reject this decision. I will see to it that your vote is respected. PML-N will see to it," Nawaz vowed. 
On Saturday morning, Nawaz's convoy left Gujranwala for Lahore on the fourth day of the rally.

The former PM's cavalcade made its first stopover at Kamoke, as eager supporters gathered on the route in hundreds to greet him.
Preparations to welcome the ousted prime minister in Lahore were in full swing, as locals decorated Shahdara Chowk and other venues with posters and banners of Nawaz Sharif.
Ravi Road, all the way from Shahdara to Daata Darbar, was closed to traffic from 9am onwards ahead of Nawaz's arrival.
PML-N workers and supporters set up stages in different areas of the city as part of the preparations to greet the former PM.
Nawaz's cavalcade will enter Lahore through Shahdara later today, where Nawaz will address the public.
A group of PML-N workers, led by Foreign Minister Khawaja Asif, accompanied Nawaz during the final leg of the rally. 
Addressing a consultative meeting in Gujranwala before setting off for Lahore, Nawaz said the Supreme Court judges did not do justice to him.
"If not taking salary from my son is crime then taking salary from my son would also have been declared a crime," he lamented, adding, "The decision to disqualify me was pre-planned."
"It is about time the public's votes are valued," he said.
Meanwhile, City Traffic Police Lahore (CTPL) has issued a comprehensive traffic plan during the rally, which is expected to reach Lahore later in the day.

According to the plan, Gujranwala GT Road to Imamia Colony Phatak, Shahdara, Niazi Chowk, Timber Market, Azadi Flyover, U-turn, Peer Makki and Daata Darbar will remain closed for traffic. The commuters were directed to avoid travelling on GT Road and use the motorway instead.

The motorway will be opened for all kinds of traffic from Thokar Niaz Baig and Babu Sabu interchange. The Sagian Bridge will also be opened for motorists coming from Faisalabad, Gujranwala and Sheikhopura.

The Metro Bus service will be closed from Shahdara to MAO College, but will continue to run from MAO to Gajjumata.

Suspicious man arrested outside Daata Darbar 
A suspicious man was arrested outside Daata Darbar on Saturday, police said, near a stage set to greet Nawaz Sharif upon his arrival in Lahore.
The man was transferred to an undisclosed location for interrogation, police added.
Day three
Addressing a massive crowd to loud chants of 'Nawaz Sharif we love you' in Gujranwala Friday night, the former PM said conspiracies were being hatched against his government for the previous three and a half years and pledged to make Pakistan a great country.
Nawaz also paid tribute to the child who was killed earlier in the day in Lalamusa, and said he would visit the child's household and help them as much as he could. He also prayed for the child's soul.
"He was the first martyr o